A landmark today - Siddharth is 100 days old today. The sheer delight he has added to our lives since
Dec. 9
in just unexplainable and I run out of adjectives to explain his acts and plays. I am even criticised by
Prabhu
and
Jagadish
for not talking about how Sid behaves and plays. Actually, I am in total awe and really don't know how to explain Sid's activities to people living away.
Sid smiles at almost everyone and even if he doesn't, people don't complain. He sleeps whenever he wants bothering about nothing and when he is awake, he has his own language for his babbles, but is still understood. Sid can kick and hit anybody and no one is hurt. Without any reason, he exults and leaves others envying his cute little face with those wonderful lips, eyes, cheeks, etc. He keeps smiling which suddenly turns into a weep without a drop of a tear, but it soon vanishes. Sid just spreads loveliness all over the place and its so nice to be a child like him holding zero grudges. Every child might do these things and it would be wonderful for those who are concerned. To Laks and me, Sid's actions & antics are super-special - obviously !
The flute and lute are sweet they say
Deaf to baby's babble's lay !
Laks & I, now completely understand what that
thirukkural
means. Yes, the sounds that come out of Sid's mouth is the best music we have ever heard in our lives. He has so
many words
which defy all logics and the way he expresses his feelings without actual words is absolutely awesome.
Now, catch a glimpse of how Siddharth looked 15 minutes after he was born and how he looks today on his first century !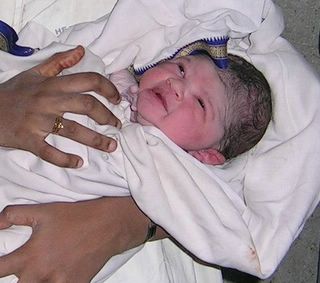 Labels: siddharth